May 5, 2023 (Cohoes, NY) ADG Mountainsides is proud to announce that on May 12, their newest coaster installation will be opening at the Golden Skybridge in Golden B.C. ADG Mountainsides is partnering with Pursuit, a Vancouver, B.C. based attraction and hospitality company, to bring this attraction to life. Rail Rider Mountain Coaster is the first-of-its-kind in Western Canada as well as the fastest and largest mountain coaster in all of Canada.
The Rail Rider Mountain Coaster will race through an old growth forest between Canada's two highest suspension bridges. The 3,375 ft coaster features an up-track that takes riders 1,180 feet up the canyon, before they descend 2,195 feet, reaching speeds of up to 40 kilometers per hour. Riders will then coast under the lush canopy, around a 360-degree loop, through a 50-foot tunnel and finally shoot out onto a cantilever that extends over the majestic Columbia Valley.
Designed to suit almost any mountainside location, ADG's Mountainsides makes the most of the local topography to deliver an authentic mountain coaster experience.
"At ADG, our goal is to deliver mountain coaster and alpine slide experiences to adventure seekers in the most iconic destinations around the world. Collaborating with Pursuit on designing and constructing the Rail Rider mountain coaster is the latest example of ADG's dedication to developing one-of-a-kind projects with great clients," said Bruce Quay, COO of ADG Mountainsides, "This project is a testament to Pursuit's vision and ADG's ability to make our clients' vision become reality. We are very proud of our great working relationship with the Pursuit team, and we are looking forward to collaborating on future projects."
With ADG Mountainsides' cutting-edge innovation, Rail Rider Mountain Coaster will allow riders to choose their own level of adventure. Featuring our proprietary Position Monitoring System provides ample safety features, including speed limiters and a self-braking system giving the guest the ability to enjoy the scenic mountainside view at their own desired speed.
ADG Mountainsides (a division of ADG) is excited to announce that three new coaster installations have been contracted in 2022. The new rides, with specifics on their locations to be announced soon, will be located across Western Canada and in the South Western United States and are expected to be up and running in late 2022 and early 2023.
ADG Mountainsides offers a premier line of Mountain Coasters and Alpine Mountain Slides designed to bring down-hill excitement to any mountain resort or tourist attraction.  ADG Mountainsides products are Made in America by a company with 50+ years of product design and manufacturing experience. Since establishment in 2010, ADG Mountainsides has over 30 ride installations across North America.
A Showcase for the Latest Ride Feature Innovations
Advancements in key technologies have set the industry standard for coaster safety and guest satisfaction, providing a complete ride package that is built better, installed easier, and provides a better guest experience. And with their latest advancement, ADG is now bringing audio to the mountain!
ADG's On-Board Audio System is the first-of-its kind technology that allows operators to add music, custom narration and a themed experience all signaled by a positioning system for location triggered audio communication. The Olympic Site in Lake Placid, NY was ADG's latest coaster installation and features ADG's latest On-Board Audio System! And at 7,600ft (2316m) in length, this coaster took the title of longest in North America.
Another unique innovation to ADG"s Mountain Coaster is their proprietary "bolt-up' track installation system and Site-Ready Assembly. Mountain track sections arrive on site in pre-assembled sections ready to be installed which means less time working on your mountain and more time operating your ride. The unique modular design allows for fast and accurate installation that adapts easily to changing weather conditions. And with a higher ground-to-track clearance you can easily run the ADG Mountain Coaster in almost any weather, without the hassle of snow removal.
"ADG's exceptional project management and oversight of the installation process was integral in enabling our coaster to get up and running a month earlier than anticipated, allowing us to capture some key revenue generation in the busy fall season", said Elise Ruocco, Communications Directory at Lake Placid Olympic Authority, ""
Stay tuned for more specifics on the three new coaster announcements and construction updates coming soon!
ADG Mountainsides is proud to announce the opening of their latest mountain coaster at the US Olympic Venue in Lake Placid, New York. With 7,000 feet of track traveling alongside the iconic 1932 and 1980 Olympic bobsled race courses, the Lake Placid Cliffside Coaster takes the title of the longest mountain coaster in North America.
One of the most noteworthy features of the Lake Placid Cliffside Coaster by ADG Mountainsides includes the first ever Audio Soundtrack System on board each cart. 
Narrated by John Morgan, who starred in the popular movie 'Cool Runnings', the Olympic inspired commentary lets visitors experience what it was like to be an Olympic bobsledder as they zig and zag their way down the mountain through all the exciting twists and turns designed to replicate the historic bob sled track (with a few additional 360-degree turns also included just for fun!).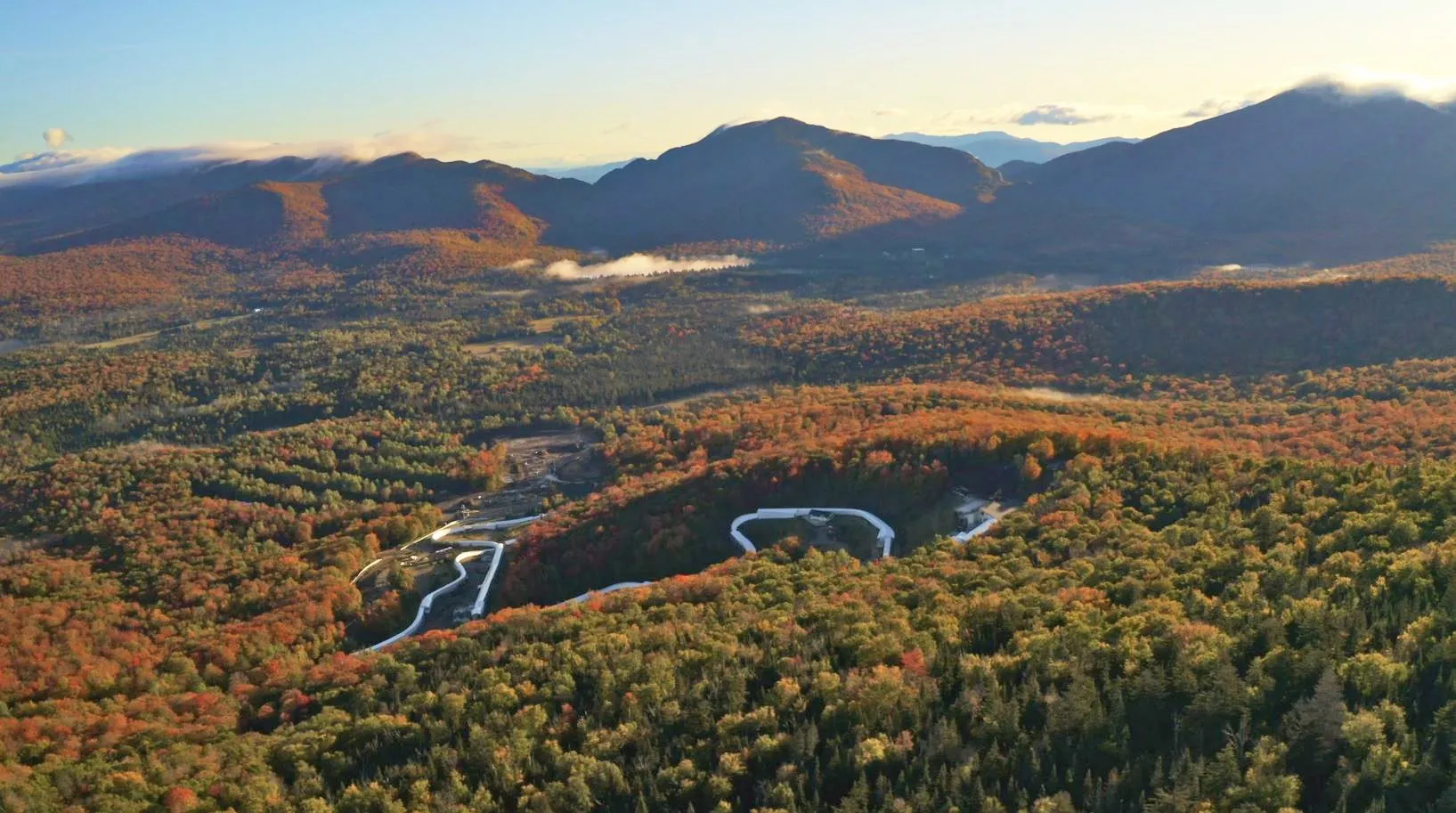 "The Coaster follows the alignment of the 1932 & 1980 Olympic Bobsled track as it descends the mountain. The views are amazing, and the curves get your heart pounding," ORDA President & CEO Mike Pratt said in a press release.
With speeds up to 25 mph possible, the driver controls how slow or fast their cart goes down the mountain in two-person Olympic themed carts designed to match the look and feel of a bobsled.
"The Cliffside Coaster is one of our latest and most thrilling additions to the Olympic Regional Development Authority venues," said Governor Cuomo of NYS, "This revitalization is transforming the complex into a year-round provider of excitement and entertainment for both athletes and families, which will attract more summer visitors and provide a critical boost to local businesses as we work to build back better."
More and more mountain resorts are choosing ADG mountain coasters as a way to increase revenues and enhance their brand as a premier 4-season recreation destination.
ADG Mountain coasters are designed to operate year-round, enhancing their appeal as an investment. Resorts typically run alpine coasters on a limited basis during the winter (such as weekends and holidays) and will ramp up coaster operations to six or seven days a week for the key revenue period during summer.
For this reason, Jessica Mahoney (Director of Marketing, ADG) said, "When you decide to build a coaster, ensuring an install time to get you up and running for those summer months is essential."
As flagship attractions that help drive new and different customers to four-season resorts, mountain coasters are not only sought out by thrill-seekers looking for their next adrenaline rush, they're very popular with families. Kids as young as three can ride them, and as many resorts have discovered, mountain coasters are also a hit with the silver-haired set. Bob Serfass, (Director of mountain adventures at Camelback), says this isn't something the resort really anticipated when it decided to add a mountain coaster.
"We're getting a lot of older people who really like the fact that they can control the speed," Serfass said, adding that many of them are grandparents who see it as great opportunity to have fun riding the coaster with their grandchildren. "It really tailors itself to people of every age," he said.
The average mountain coaster ride lasts around five to six minutes. Mahoney adds that the average of length of an ADG alpine coaster track is about 5,000 feet. One of the newsest ADG coasters is at Copper Mountain and is among the longest in North America, with a track that's 5,800 feet long (of which nearly 4,000 feet is the downhill descent) and with a vertical drop of 430 feet.
Each ADG coaster track is prefabricated at the company's manufacturing facility in New York state. The modular design and flexible track configurations of ADG coaster systems enables them to be tailor-made for each mountain's terrain and also cuts down on installation time.
According to Mahoney, an ADG coaster track can be built from start to finish in under four months. ADG assists clients not only with the planning process, both in terms of assessing potential routes and the operational needs of coasters, but also provides project managers who work on-site to ensure  construction goes smoothly. "It's a partnership," Mahoney said.
The Runaway Mountain Coaster at Branson Mountain Adventure Park in MO opened to the public August 2016. This alpine coaster designed and built by ADG, is 4,900 ft. long with track laid out over 330' ft. of elevation and two elevated 360 degree corkscrews, making it the longest in the Midwest.
Determining whether a Mountain Coaster is a viable attraction for your resort involves a few factors. Overall, coasters have proven to be good anchor attractions that will draw everyone from young children to grandparents. This can be a considerable addition to revenue not only for ticket sales but for food, beverage, and retail as well. The ROI for a Mountain Coaster comes directly from the number of ticket sales you have for rides.  Simply – more riders equals more revenue.
The Mountain Coaster at Branson Mountain Adventure Park has resulted in consistent rider satisfaction amongst a large demographic range. Since 2016, the Runaway Mountain Coaster has been a huge success.  And to provide guests with yet another experience, they have also introduced night rides with a colorful LED light show after dark.
With speeds up to 30 mph, the Runaway Mountain Coaster is not only the longest ride but also the fastest in the Midwest.  This coaster, along with every ADG mountain coaster, features a system that delivers all the exhilaration of a rider-controlled experience.
"How Alpine Slides Work
The best way to describe the function of an alpine slide is to compare it to its cousin, the bobsled. Unlike the bobsled, the alpine slide is a smooth, continuous track that is often built into the side of a hill and does not need ice to operate. Ski resorts typically install these slides as a way to attract business year-round when the weather is too warm for skiers and snowboarders.
Riders sit in a one or two person cart that has a hand control in the middle. What makes this ride unique and a preferred choice for thrill seekers that may still be a little intimidated by the experience is that the hand control allows the rider to have full control over their speed. Controlling the speed of the cart is essential to prevent accidental roll-overs or injuries.
Why Do Ski Resorts Spend Money on Alpine Slides?
As previously stated, alpine slides are installed and managed by ski resorts as a way to supplement income during the summer months. In places like Colorado, where skiing is limited to certain months during the year, installing a slide helps resorts stay relevant with summer travelers. In fact, over the past several years, many ski resorts throughout the country and across the globe have noticed a trend in travelers booking summer vacations just so they can experience the thrill of the alpine slide.
Where Are the Popular Alpine Slides?
Colorado is one of the most popular destinations for alpine slide seekers. Resorts like Breckenridge Ski Area, The Winter Park Resort, Durango Mountain Resort, Heritage Square and Howelsen Hill all boost world-class alpine slides. Riders can expect a trip down one of these fast slides to cost anywhere between $8 and $15 dollars, depending on the length of the slide and the age of the rider.
Finding Alpine Slide Locations in the United States
Because these slides are built into the sides of mountains, this does limit the parts of the country where you can find premier alpine sliding. At present, there are approximately 23 slides located throughout the country. These slides can be found in states such as Kentucky, Wyoming, Vermont, Montana, and California.
However, some of the more popular and well-known slides are found in ski resorts throughout Colorado. For instance, travelers visit the Winter Park Resort in droves to take a ride on the state's longest alpine slide. At over 3,000 feet long, riders must board a chairlift to take them to the top of the slide where they will then proceed to experience the thrill of the 610 foot vertical drop. This is a slide that is not meant for the faint of heart or those afraid of heights!
Southwest Colorado's only mountain coaster, designed & built by ADG Mountainsides, opened to the public this past Saturday, August 25 with plans to operate year-round.
The Inferno Mountain Coaster is 4,000 feet long with a 300 vertical drop, nine switchbacks, and one 360 degree loop. Capable of going up to 25mph, and with track sections that rise up as high as 40 feet in the air, the coaster opened to plenty of guest excitement!
"The new Inferno Mountain Coaster is an absolute blast to ride," stated Elizabeth Howe, general manager of Purgatory Resort. "This thrilling new ride zips you through aspen trees with twists and turns revealing incredible views of the San Juan Mountains."
"The Inferno Mountain Coaster is a fantastic new addition to all the other activities at Purgatory Resort, providing one more reason to visit the resort any time of year," stated Howe. "The new coaster is a fun ride for all ages, and it gives you the freedom to determine how fast – or slow – you want to go." ADG mountain coasters employ a motorized pulley system that takes guests uphill on a track. Once they reach the top, gravity whisks riders down, twisting and turning on a fixed track. Guests regulate their own speed with a handbrake.
This is the second Mountain Coaster designed and built by ADG to open in Colorado. Copper Mountain Resort in Summit County, CO, opened their 5800ft ADG Mountainsides Coaster in 2017.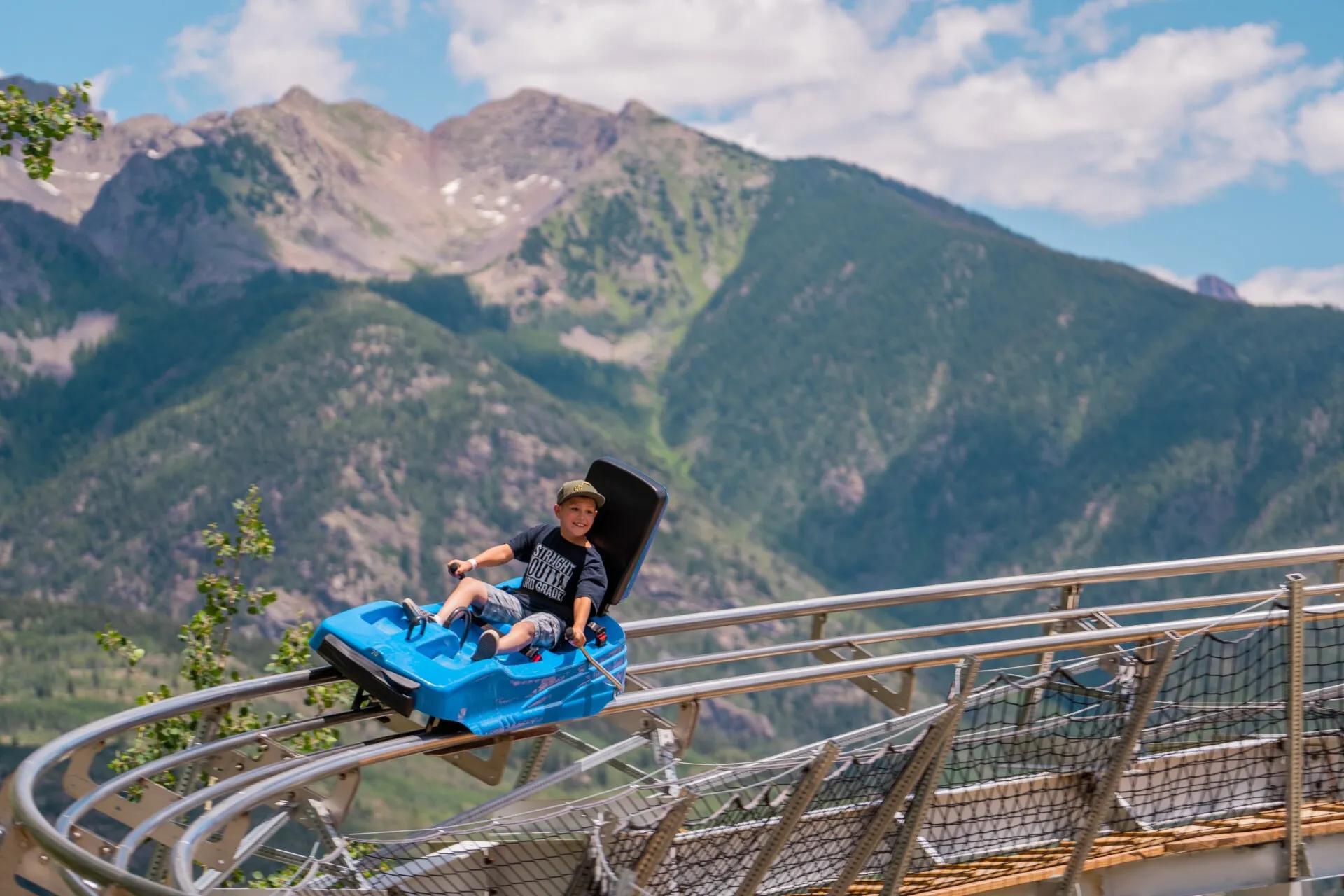 An ADG Mountain Coaster has opened at Copper Mountain Resort in Summit County, CO. This mountain coaster is one of the longest alpine coasters in North America and features a stunning scenic ascent and thrilling descent of twists & turns through the high-alpine forest of the Rocky Mountains.
"The Rocky Mountain Coaster is an ideal year-round attraction for just about everyone," said Gary Rodgers, Copper Mountain's President and GM. "We expect to see grandparents going down with their grandkids and all 'kids-at-heart' taking a ride with their friends and family."
The ADG Mountain Coaster at Copper Mountain has a track of 5,800 feet which includes a descent of almost 4,000 feet and a vertical drop of 430 feet. The raised alpine coaster track runs along the natural curvature of the mountain with zigs, zags, dips, and 360-degree turns for guaranteed thrills all the way down to Copper's High Alpine Center Village.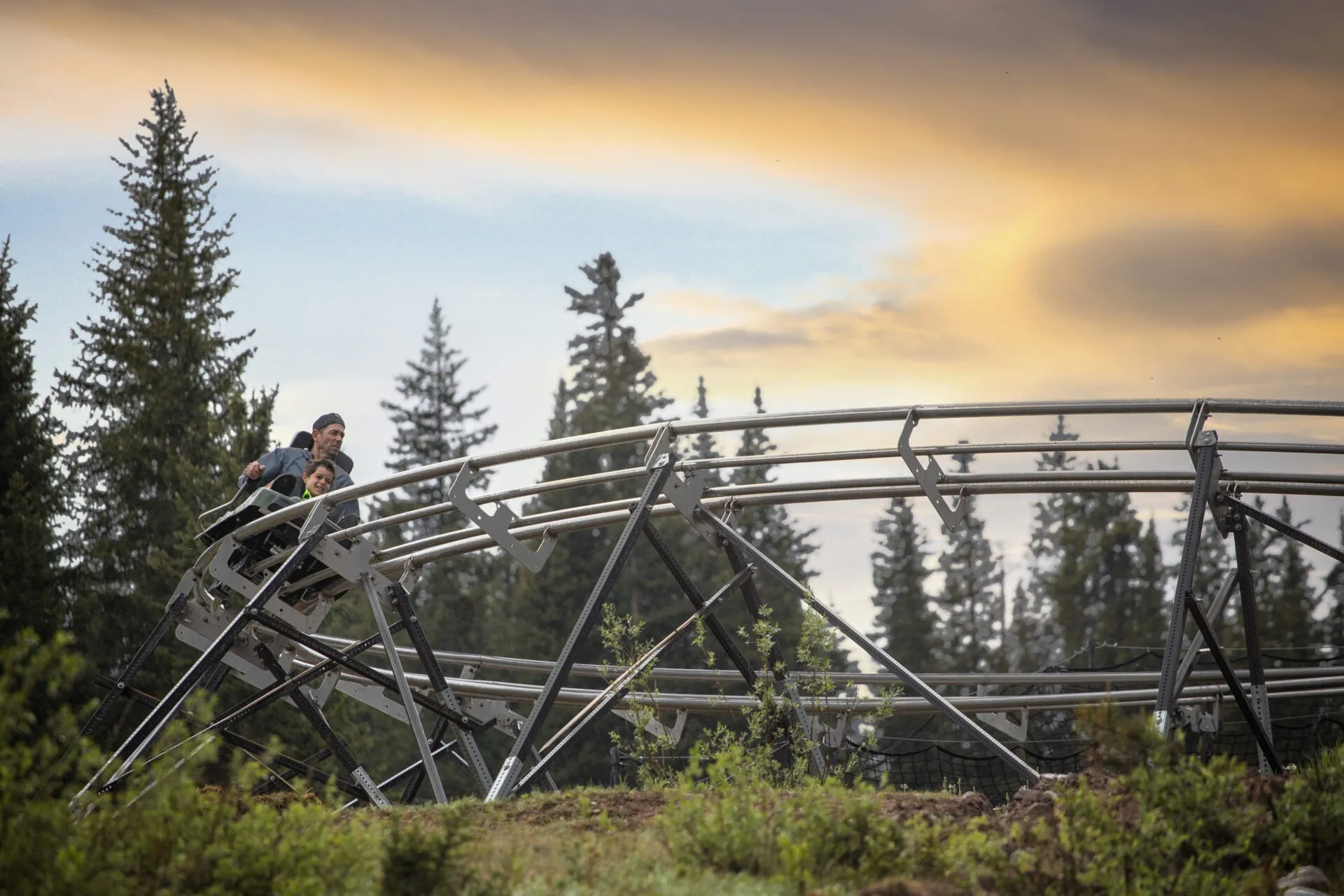 ADG's Mountain Coaster coaster system features a track that is raised higher off the ground to provide for year-round operation. Copper Mountain plans to take full advantage of that with plans to run the ride in both the summer and winter.
"The Rocky Mountain Coaster at Copper is going to be an exciting addition to our winter and summer offerings," says Shawn McDonald, Director of Mountain Sports at Copper Mountain.
"Working with ADG to install our newest resort attraction has been a great experience. Their ability to be flexible, focus on safety, and passion for what they do confirmed that choosing ADG Mountainsides as the supplier of our Mountain Coaster was the obvious choice!"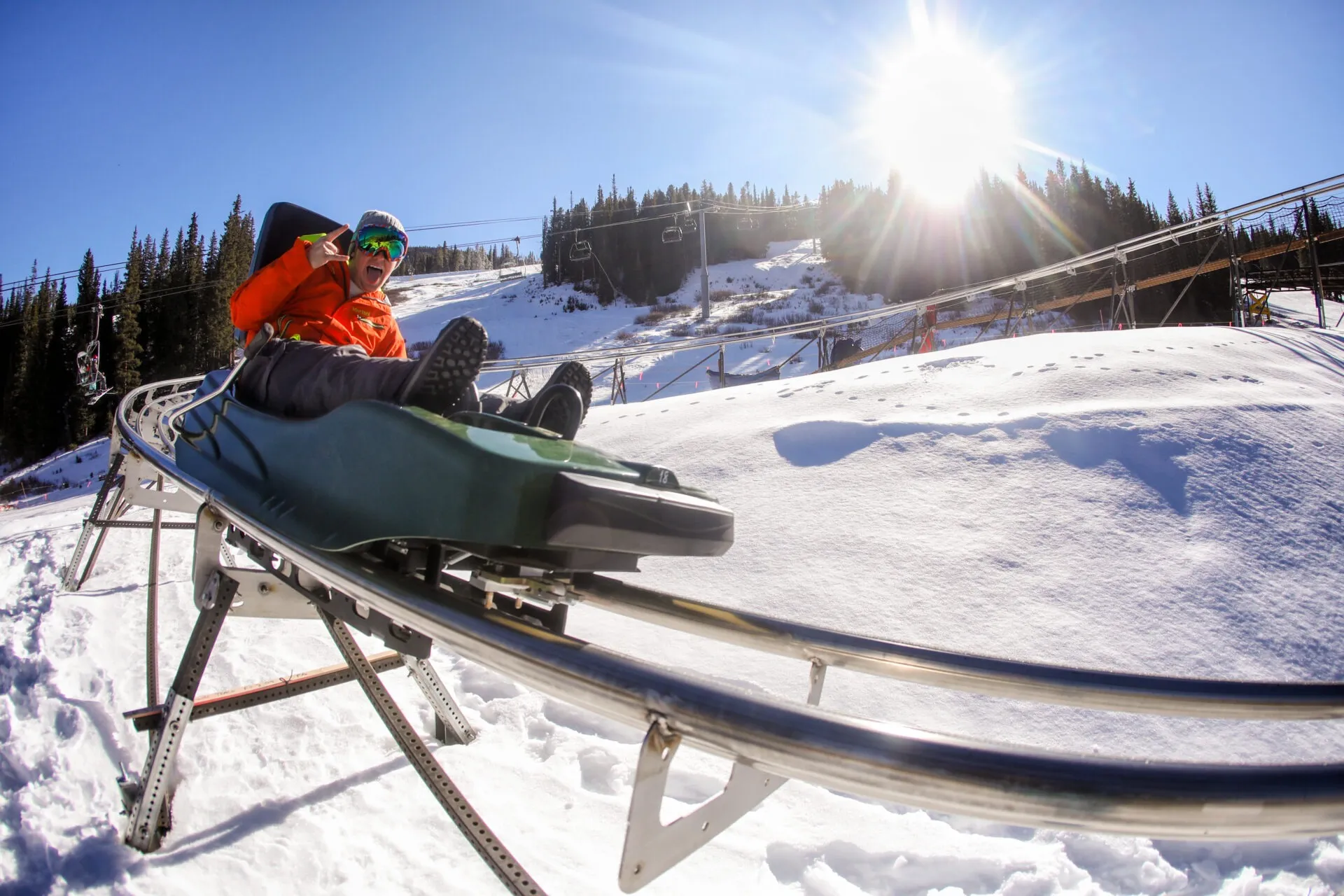 Camelback Resort located in the Pocono Mountains of PA, has brought back an iconic attraction to their mountain with the opening of their brand new Mountain Slide attraction. With a new design and a new name, the 'Pocono Pipeline' is reminiscent of the once popular Alpine Slide that operated from 1977-2003 at the mountain.
Gone are the old yellow and red sleds from the 1970's, the new sleds feature a cool green and black décor that reflect the updated 21st century look and feel of the ride. Putting safety at the forefront, ADG Mountainsides developed the new Mountain Slide with a non-abrasive fiberglass track that offers a smooth surface that heightens the sensations of speed and improves control over the older, poured concrete models. Two dueling chutes take guests 2,800 feet down the mountain through multiple dips, high-G turns, and tunnels.
"The Alpine Slide has real sentiment among those guests who grew up coming to the Pocono Mountains and Camelback Resort," said Arthur Berry III, co-owner of Camelback Resort. "We are really excited to bring back a new and improved version of this iconic attraction from ADG. Many of our guests tell us they're looking forward to sharing this nostalgic ride with their own children."
In addition to the Mountain Slide, ADG also supplied the popular 4,500-foot Appalachian Express Mountain Coaster at Camelback.